Looking for great decor ideas for your front porch for fall? Even though summertime is coming to a close, you don't need to say goodbye to spending your days outside just yet. Fall is one of the best seasons to truly take in the beauty of Mother Nature as she moves us closer to the winter season.
Your porch is where you get to see all this take place. What better way to watch the leaves falling from the trees and the majestic sunset than from your porch?
Decorating your porch with the new season in mind is a great way to enjoy its weather even more.
However, it can be difficult to dress your porch in a way that's seasonal while not being cheesy. That's why we've rounded up the 10 best porch ideas to help you dress up your front door this fall season.
Mix and Match with Different Colors 
Fall is an array of different colors. You want your fall-inspired porch design to incorporate that. Mixing and matching with different colors is a great way to achieve this.
Make your porch stand out by collecting flowers in every shade you can find. Yellows, peaches, oranges, and dark reds are all great.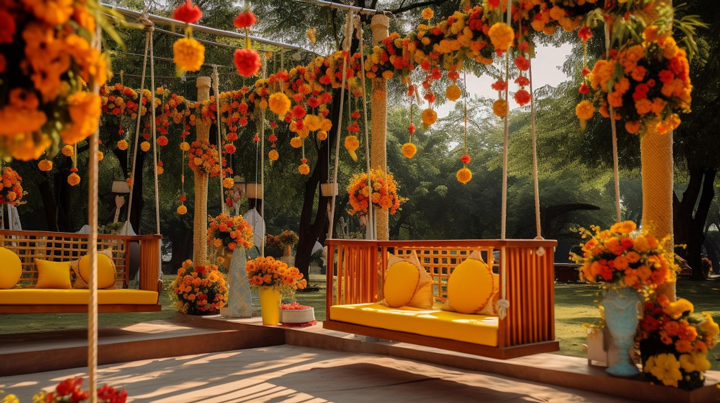 You can then add these pots of different fall flower arrangements around your porch or back swing. From here, arrange pumpkins of varied colors and sizes around the arrangement for a wild display of color.
Go for a Minimalist Design 
Maybe you don't want to be too extravagant with your porch decoration scheme.
Keeping it simple with small elements can help you achieve a minimalistic design that'll have your guests smiling as they walk into your home. However, some minimalist designs sometimes look too plain and boring.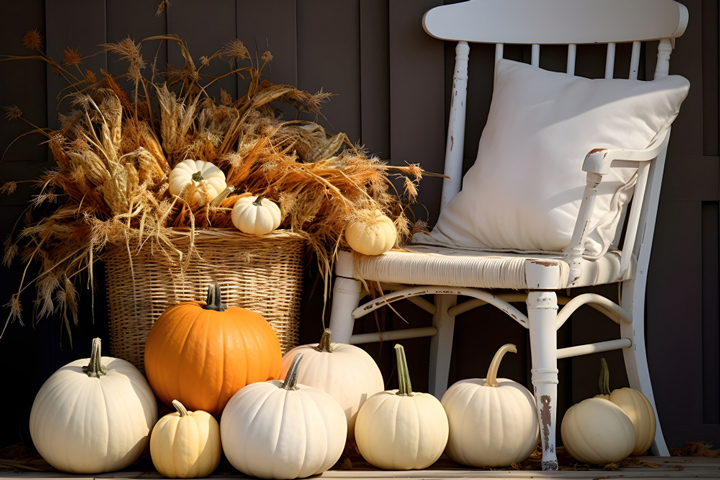 You can prevent this by adding a small display of pumpkins and white accent chair with a basket full of stalks. A burst of color with some carefully placed autumnal decor is a great way to balance out your minimalistic design while still keeping your porch balanced. 
Keep a Gaggle of Ghouls at Your Door
One of the most prominent events during the fall season is Halloween. Why not incorporate some Halloween decorations on your porch to get you in the festive mood?
The secret to nailing Halloween decorations is to make sure your design is equally chic and spooky. Sticking fake spider webs across your door is a great way to add Halloween decorations to your property without them looking cheesy.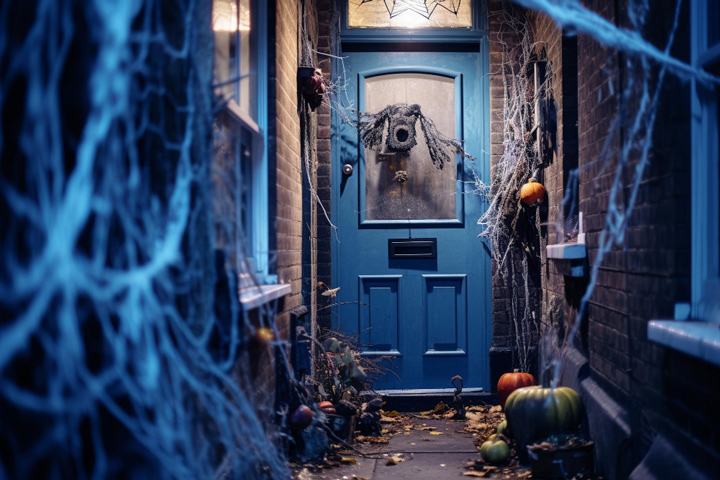 You can also add a collection of pumpkins around your porch that are painted with black and white paint to resemble ghosts or mix them up with colour. This is the perfect porch decor if you're not fond of a classic fall color scheme.
Add a Fall-Inspired Wreath 
Adding a wreath on your door isn't only for Christmas. Make your own beautiful fall wreath with some seasonal decor like mini pumpkins and cornstalks.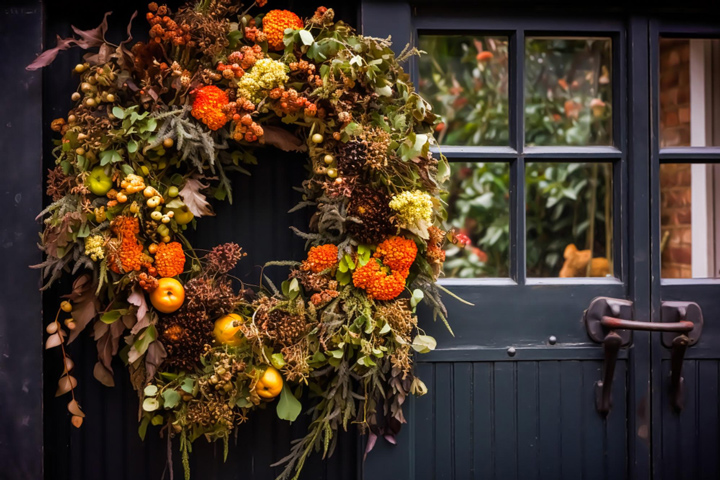 This fall-inspired wreath is a perfect addition to your porch decor when paired with a pumpkin patch arrangement. Although minimal, this design adds a great torch to your porch and can make it feel cozy. 
Create a Symmetrical Arrangement 
You can never go wrong with a symmetrical arrangement. Decorate your porch with a muted color palette, white pumpkins, a plaid blanket, and some corn husks. One side of your porch should reflect the other to create balance.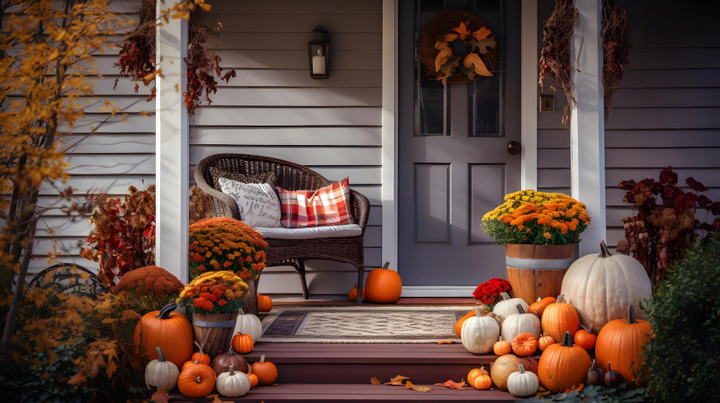 Add Autumnal Hues 
Autumnal colors are the best way to add a pop of color to your outdoor space while still blurring the lines between Mother Nature and your porch decoration. A cute simple way to do this is use a cermanic pumpkin as flower pot, and fill it with yellow florals & other autumn flower colours.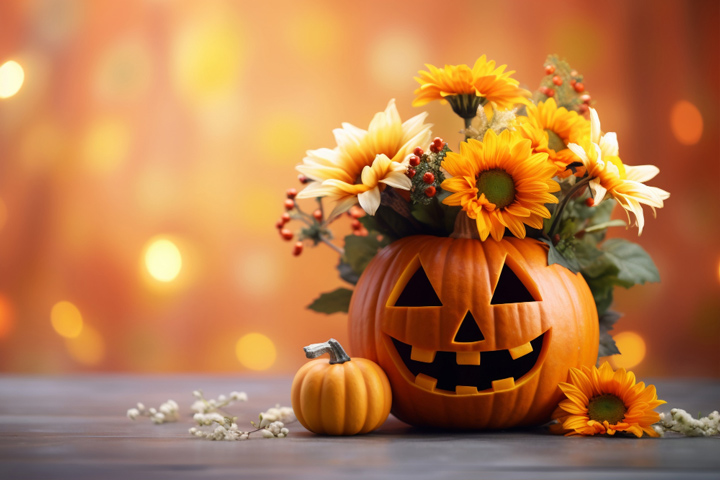 This achieves an autumnal palette while also including more natural elements in your outdoor fall decorations. 
Let Mother Nature Shine 
Cover your porch with earthy accents. This will let Mother Nature shine across your porch. When you want to achieve this design idea, add rough texture and rich colors to your decorations. Dark wood, bold colors, and seasonal plants are great additions.
Get Creative with Some Cornstalks or Rye 
You can add some wood crates that include cornstalks or rye next to your porch door. You can dress up the scene with some wildflowers and tiny gourds to create a cozy and festive mood.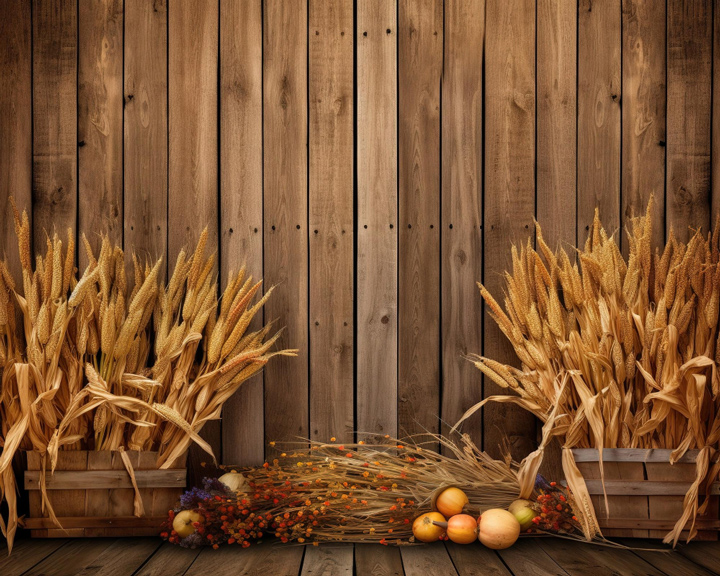 If you have a porch swing, you can also add some cornstalks next to it with throw blankets and outdoor pillows. 
Pumpkins, Pumpkins, Pumpkins!
Adding a pumpkin or two is great – but you can level up your porch display by adding as many pumpkins as you can get your hands on. PUMPKINS EVERYWHERE!!!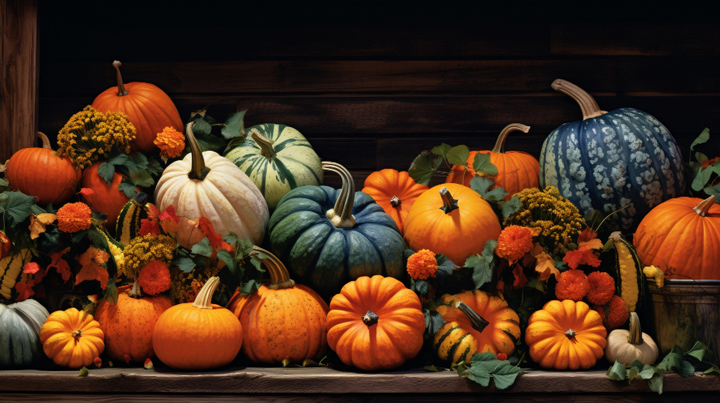 Place a pile of pumpkins around your outdoor areas to create a display that will take your friends breath away. You are only limited by your imagination here, so go all out for October. Now its time to go Front Porch for Fall!