Different rose colors can be amazing, right? But what do they symbolize? We've all seen common roses colors like red, violets and white, but roses can come in a wide array of enchanting hues – each with its own meaning. Understanding what each hue means will empower you to convey profound sentiments to whomever you send these flower arrangements to.
Before you start planning your next flower arrangement order, you want to find the right rose to display your intentions for sending this bouquet. This guide will take you through the colors of roses (and what they represent), which will help you find the right rose hue for every occasion.
Each Rose Color Carries a Distinct Meaning
Often known as the embodiment of love, rose colors carry versatile meanings associated with each hue. Here are the most common rose color meanings:
Red Roses Are for Love and Admiration
Synonymous with deep romantic love and admiration, red roses are the perfect gift for a lover. Red is typically the option to go for whenever you're gifting roses in a romantic context.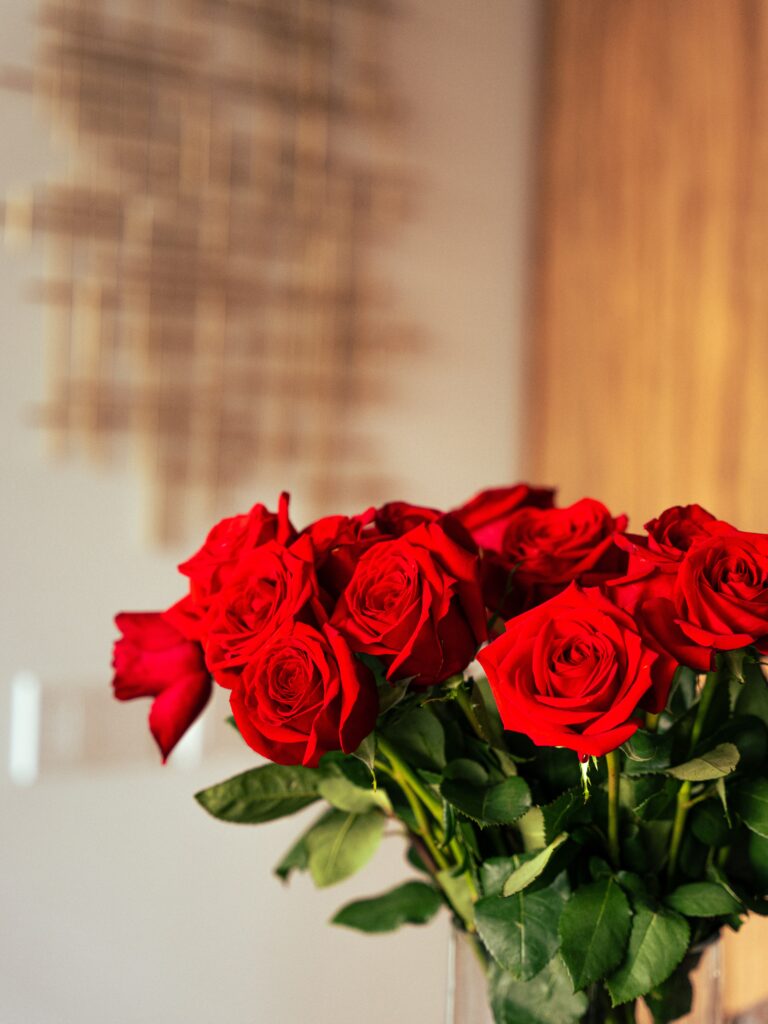 That's why red roses are quintessential Valentine's Day gifts and anniversary presents for romantic occasions.
Yellow Roses Represent Friendship
Known to be a symbol of cheerfulness and radiance, these roses celebrate friendship. This makes yellow roses the ideal option for Galentine's Day.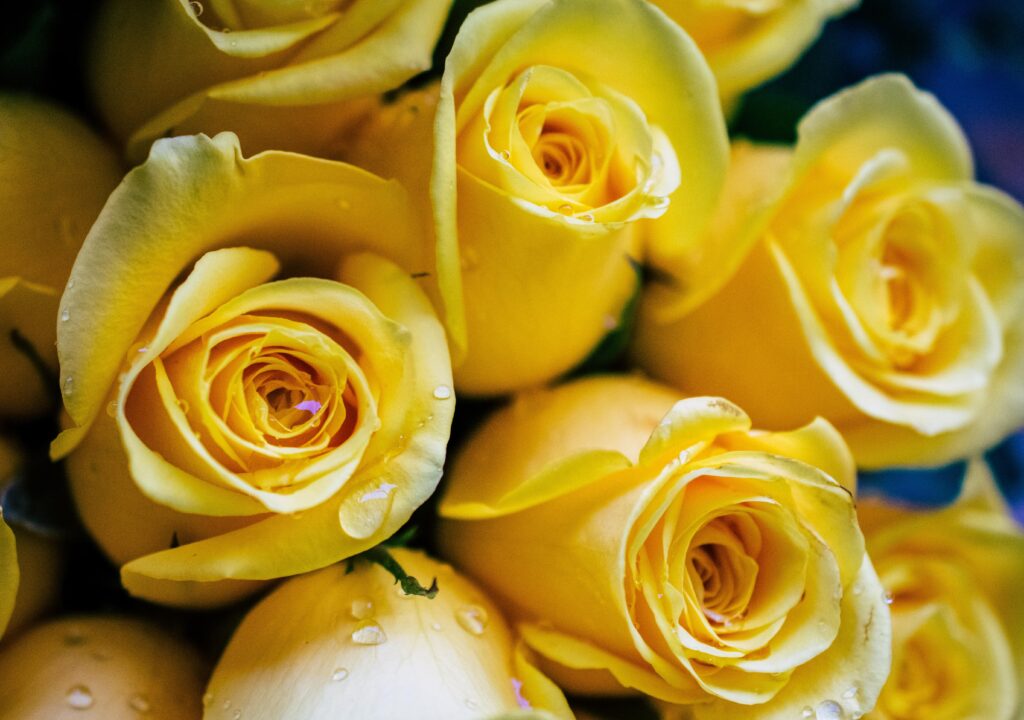 However, you should be wary about gifting these yellow flowers in a romantic context because some people might interpret these yellow roses as a sign of infidelity and jealousy.
Lavender Roses Symbolize Unique Love
Less common than pink or red roses, lavender-colored roses are used to convey an enchanting and unique love. These lavender flowers signify high regard and admiration when gifted to someone.
If you're looking to express enchantment, then lavender roses are the perfect option.
White Roses Signify Innocence and New Love
Typically associated with weddings, the white rose represents new beginnings and innocence. That's why white roses are an exceptional choice for budding romances.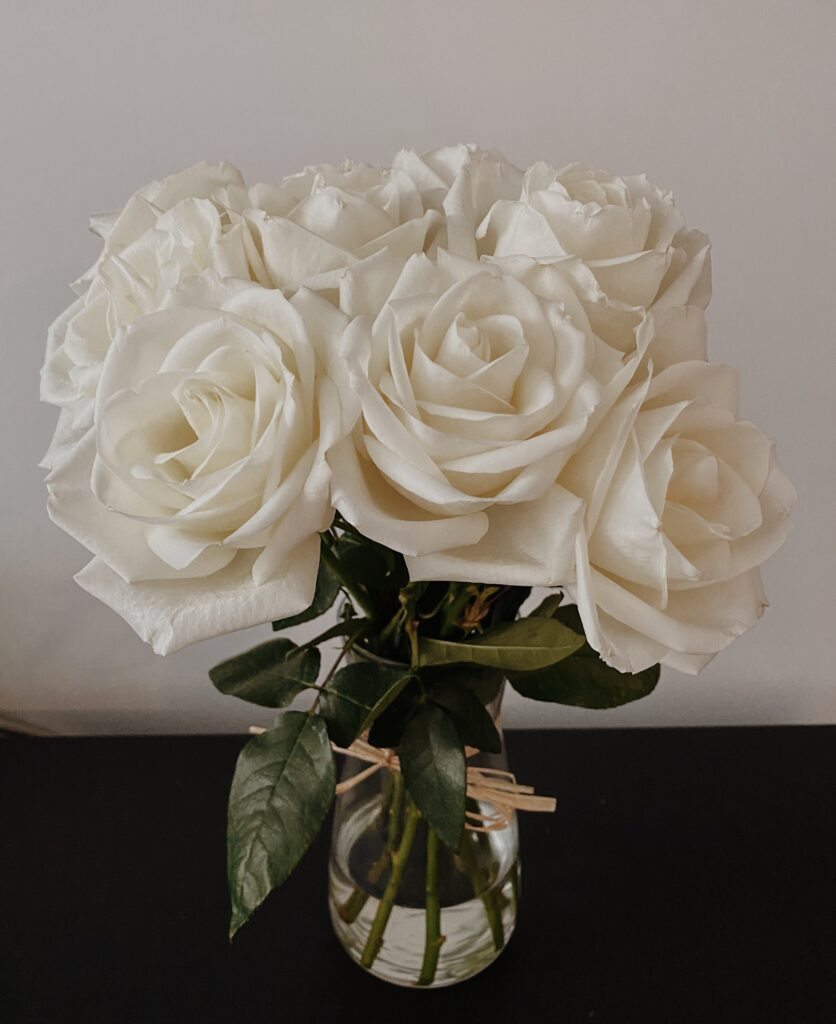 This makes white roses an exceptional option in bridal bouquets.
Light Pink Roses Showcase Innocence and Appreciation
Closely related to white roses, light pink flowers represent appreciation and innocence. Roses with a light pink hue make thoughtful gifts for close friends and family members.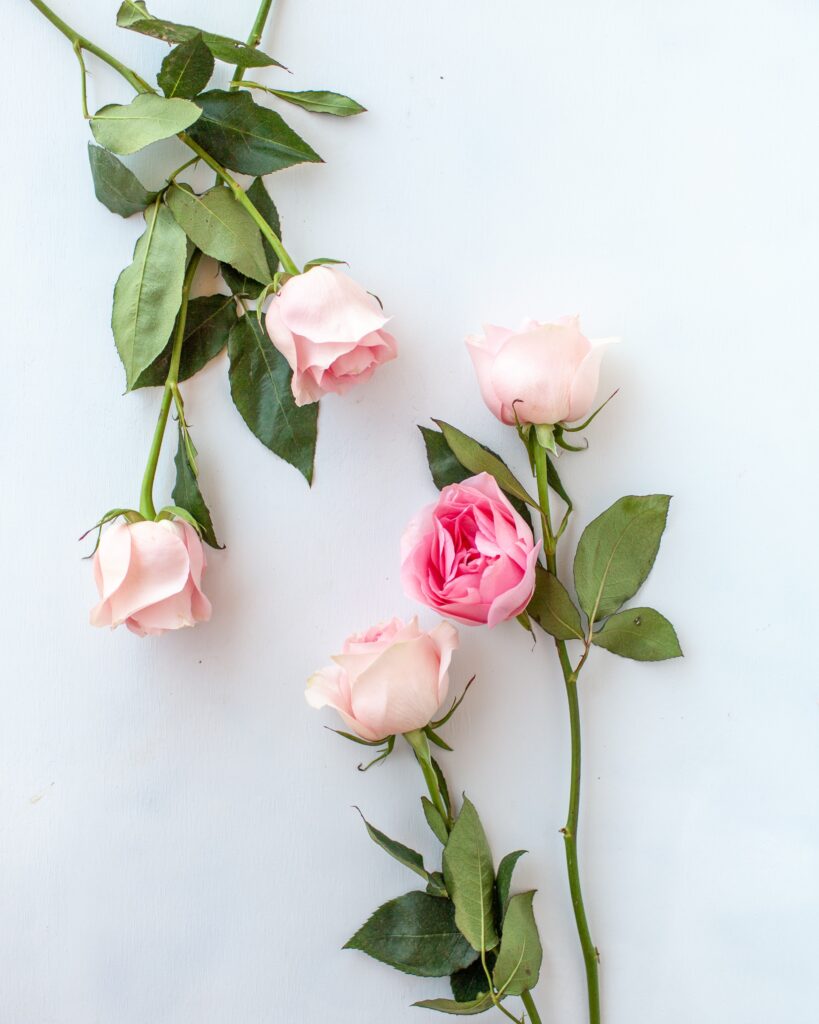 Otherwise, you might gift someone light pink roses when you want to convey sympathy for someone who might be going through a tough period.
Purple Roses Are for Passion and Infatuation
Deep purple roses make the perfect gift for those wanting to embody early love's infatuation and passion.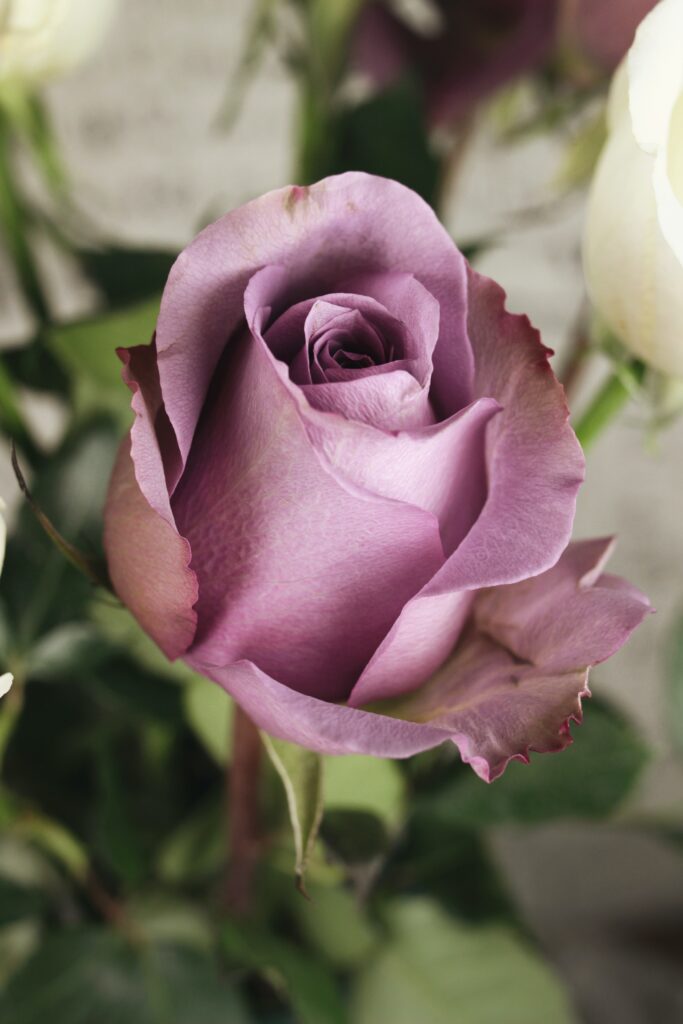 Even though purple roses aren't as enduring as their red counterparts, these are a great signification to deeper feelings.
Blue Roses Convey a Sense of Mystery
Representing the unattainable and mysterious, these blue roses are the perfect gift for someone who is truly unique.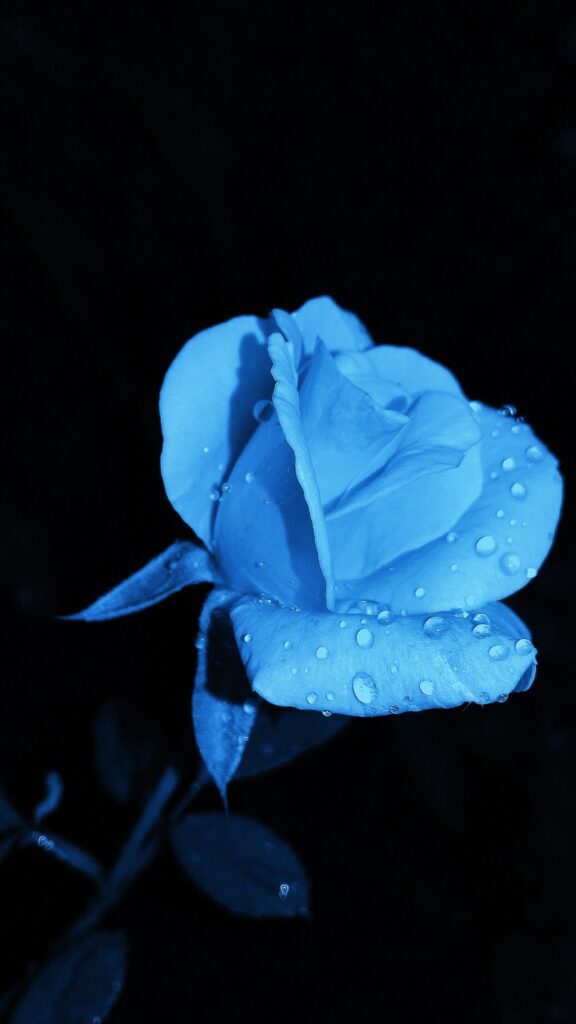 Not being found in nature, blue roses embody uniqueness that can make anyone receiving an arrangement of these flowers feel special.
Orange Roses Portray Fascination
Bridging the gap between friendship (the yellow rose) and deep love (the red rose), these orange roses hold both meanings.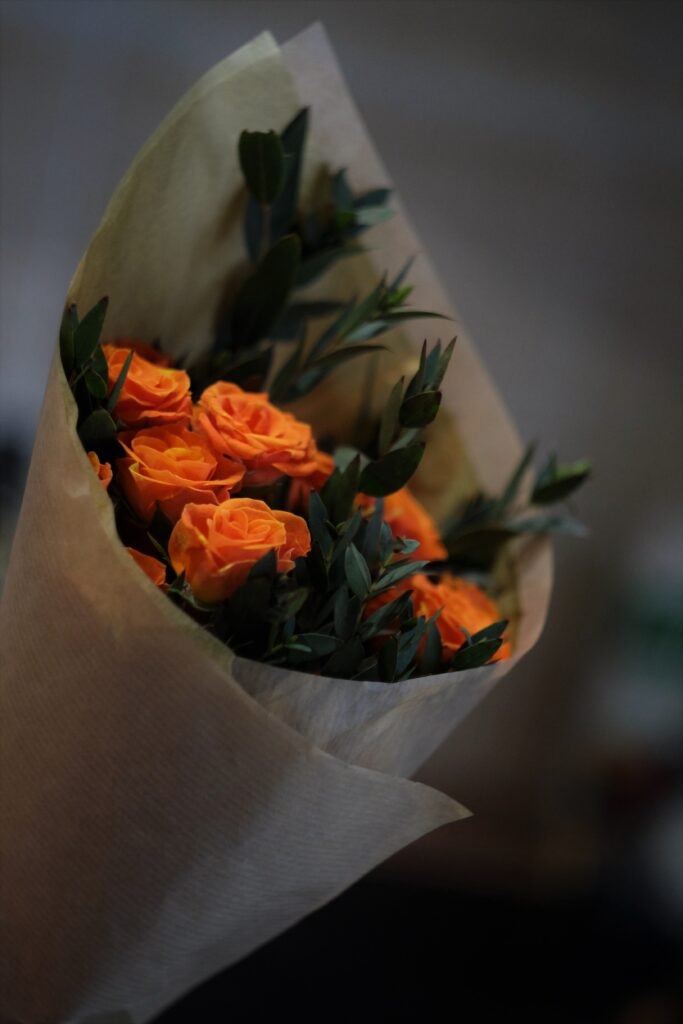 These unique yet popular flowers covey energy, passion, and fascination, which makes them a choice for taking a friendship into a more thoughtful and romantic dynamic.
Black Roses Relate to Mourning
Often associated with mysticism, mystery, and mourning, black roses express many different emotions. However, mourning is the most common feeling associated with this rose hue. Not being found in nature also makes these roses a special gift for anyone. Black roses are also well-liked as a non-traditional and chic alternative for those who aren't big fans of Valentine's Day.
Green Roses Are for New Beginnings and Good News
Some of the oldest roses known to exist, these green flowers symbolize rejuvenation, abundance, and growth. This is what makes green roses the perfect gift for fresh starts and celebrating good news.
Peach Roses Showcase Thanks and Gratitude
Known as a thoughtful gesture for family and friends, peach roses are a symbol of genuine gratitude and thanks.
That's why peach roses are an excellent choice if you're looking to showcase your gratitude and thanks to someone.
Cream Roses Show Charm and Thoughtfulness
Representing thoughtfulness and charm, cream roses are perfect if you want to let someone know they're on your mind. Have someone you've got an interest in and want to let them know? These are perfect for a prom date, or a new crush.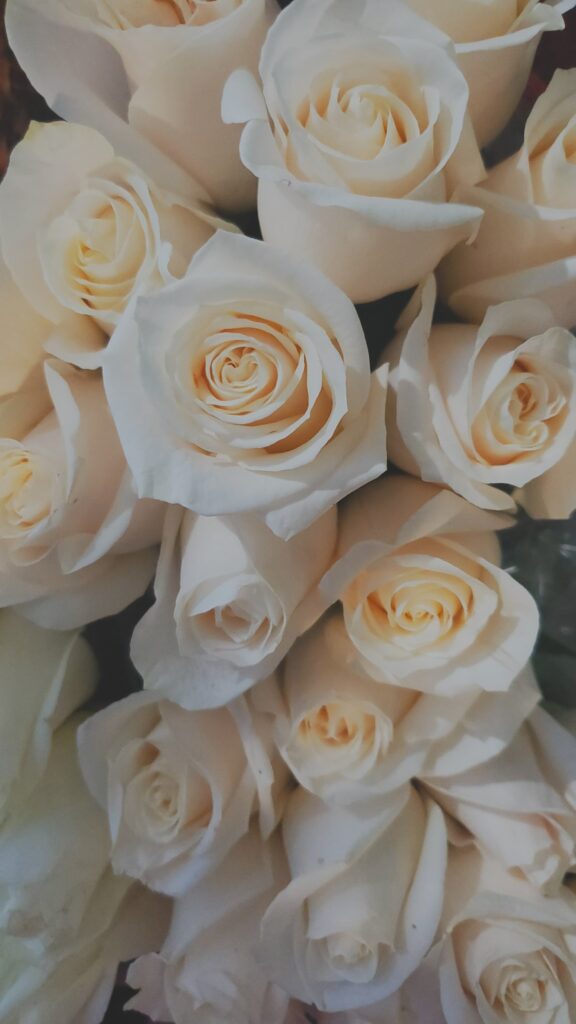 Cream roses are the right choice.
Deep Pink Roses Portray Gratitude
The various shades of pink roses can all be used to symbolize grace, gratitude, and joy. However, deep pink roses are especially well-liked to convey gratitude and happiness for your best friends. This is what makes deep pink roses the perfect choice for any special occasion involving your best friends.
Burgundy Roses Are for Devotion and Passion
If you want to stray away from red roses without losing the hue's significance, burgundy-colored roses are the right option for you. Carrying a similar meaning, burgundy roses represent devotion and passion. Offering a unique alternative to traditional red roses, these burgundy flowers are historically known to symbolize deep commitment.
Salmon Roses Represent Excitement and Desire
Featuring a pinkish hue, salmon roses are used to convey feelings of excitement and desire. If you're looking for a way to express your true feelings in a unique and vibrant way, salmon roses are the right choice for you.
Rainbow Roses Symbolize Hope, Uniqueness, and Pride
With its multicolored petals, rainbow roses portray a relationship's uniqueness. However, these multi-colored roses can also hold other meanings, such as inclusivity, pride, and hope.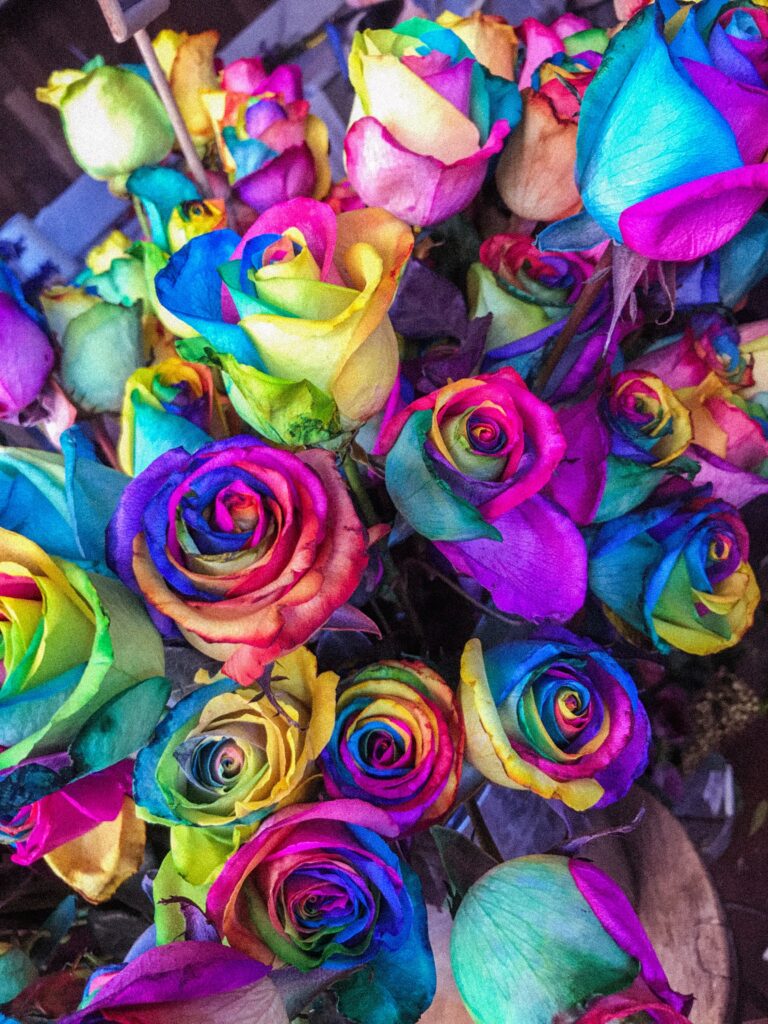 This makes these multicolored roses a celebration of love in all of its forms.
Ivory Roses Convey Simplicity and Elegance
The delicate and soft hue of ivory roses works great in representing simplicity, elegance, and charm. If you want to express your deep appreciation for someone or offer a thoughtful gesture, ivory rose bouquets are the right option.
Getting the Perfect Rose Color Arrangements
The different shades of roses offer an incredible way to express your sentiments and emotions. When it comes to bringing these sentiments alive with rose flower arrangements, Thiessen Flowers stands out.
Known as a trusted and reputable online flower delivery service, Thiessen Flowers helps you convey your heartfelt messages through an extensive selection of rose colors. Want a bouquet of roses that are unmatched? Contact us Today!